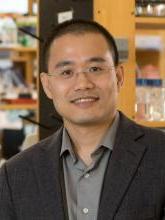 Office
255 Thomas Laboratory
Yibin Kang
Position
Warner-Lambert/Parke-Davis Professor of Molecular Biology
About
Bio/Description
Yibin Kang is a Warner-Lambert/Parke-Davis Professor of Molecular Biology at Princeton University, a founding member of the Ludwig Institute for Cancer Research Princeton Branch and an Associate Director of Rutgers Cancer Institute of New Jersey. Dr. Kang graduated with a bachelor's degree from FudanUniversity in Shanghai in 1995. After completing his graduate study at Duke in 2000 and postdoctoral training with Dr. Joan Massagué at the MemorialSloan-KetteringCancerCenter, he joined the faculty of PrincetonUniversity as an Assistant Professor of Molecular Biology in 2004. He was promoted to Associate Professor with tenure in 2010 and to Endowed Chair Full Professor in 2012. Dr. Kang has served as the President of the Metastasis Research Society (2016-2018), the Chair of the American Association for Cancer Research (AACR) Tumor Microenvironment Working Group (2018-2019), and President of the Chinese Biological Investigator Society (2018-2022).
Dr. Kang's research focuses on the molecular mechanisms of breast cancer metastasis. His work discovered new genes that promote progression, metastasis, immune evasion and treatment resistance of breast cancer, delineated tumor-stromal interactions that are essential for metastatic growth, identified novel regulators of normal and cancerous stem cells, and developed new cancer therapeutic agents. Dr. Kang has published over 200 original articles in leading journals including Science, Cancer Cell, Nature Cell Biology, Nature Cancer and Nature Medicine. Dr. Kang's outstanding achievements have been recognized by many prestigious awards, including an American Cancer Society Research Scholar Award (2005), Department of Defense Era of Hope Scholar Award (2006), the 2011 Vilcek Prize for Creative Promise in Biomedical Sciences (2011), the American Association for Cancer Research (AACR) Award for Outstanding Achievements in Cancer Research (2012), the Fidler Innovation Award from the Metastasis Research Society (2014), the Fuller Albright Award from the American Society for Bone and Mineral Research (2014) and the AACR Outstanding Investigator Award in Breast Cancer Research (2014). Dr. Kang was elected as a Fellow of American Association for the Advancement of Science (AAAS), a Komen Scholar, and an inaugural inductee of the Duke Graduate School Few-Glasson Alumni Society in 2016 and was selected as an American Cancer Society Research Professor in 2019.
Dr. Kang is a co-Founder of two biotech start-ups focusing on novel cancer therapeutics (Firebrand Therapeutics and KayoThera), based on intellectual properties developed in his laboratory. He is a marathon runner and triathlete, having completing 8 marathons, an Ironman and multiple Ironman 70.3 races.